Do you want to use the most popular and successful building method?
Then come to Firwood Timber Frame. Timber Frame Construction is the world's most successful and widely used building method, accounting for 70% of low rise family housing in the developed world.
Is it used regularly and will it
last?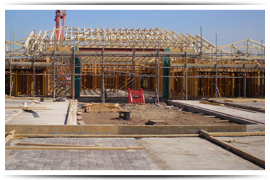 In Britain, it is a traditional form of construction with a durable pedigree dating back to the 12th century and there are Tudor houses built of timber in the 16th century still in use today. Therefore showing its durability, stability and toughness, not only this but it's cost effective and environmentally friendly.
Will wood really be strong enough?
Timber Frame in the 21st century is recognised as a major force in UK construction and its name applies it is a method of building which relies on a timber frame as a basic means of structural support.
Stiffened by sheathing materials, the frame is capable of supporting multi-storey, wide span structures and withstanding lateral loads. The engineered and factory manufactured Timber Frame guarantees the highest level of accuracy and quality and simplifies on site construction significantly.
The outer leaf of the building can be of any standard finish such as brick, block, stone, render or timber and combined with moisture and vapour barriers, plasterboard internally and high performance non combustible insulation gives a complete structure. Roofs are usually timber Trusses and these are designed and engineered to be support on the structural timber frame and internal load-bearing walls.
Is it adaptable enough to fit my designs?
A wide variety of buildings are constructed in this way throughout the country and proves its flexibility of design and layout. This includes timber frame bungalows, multi-storey flats, high volume quality developments and individually commissioned dream homes in locations ranging from inner cities to off shore islands and single plots to large suburban estates. Making it evident the flexibility you get with the using timber frame construction, if you're interested in finding out more about using this method of building, please call.
---
Building the house of your dreams to your design?
Please call
01646 600 724